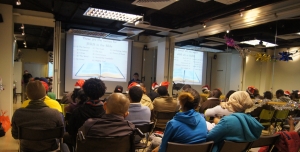 An Asylum Seeker is a person who fled from their country but is not accepted yet as a refugee. Refugees and Asylum Seekers are different. Universal declaration of human rights specifies that "everyone has the right to seek and enjoy asylum abroad from persecution". They aim to become refugees in order to apply to countries where they can settle. The UNHCR is the government agency in Hong Kong that looks after their application in processing their papers. The latest statistics showed there are approximately 7,000 Asylum Seekers (inclusive of asylum seekers, refugees and torture claimants) in Hong Kong waiting for a decision. The success rate for their application is very low. Often asylum seekers spend years in Hong Kong waiting for their case to be processed. They mainly come from south Asia and Africa as well as other regions. There are non-profit governmental organizations who take care of these people. Their daily living is also aided by the authorities. They live at a bare minimum and below subsistence level. Churches and other faith-based organizations continue to provide assistance to this group and gives support.

Many Asylum Seekers suffer from trauma due to persecution and torture, as well as poor nutrition, physical injuries and consequences of being homeless. It is common that they suffer insomnia, memory loss and digestive problems arising out of fear, stress, insecurity, rejection and loneliness. On top of these traumas, they are not allow to work in Hong Kong.

New Wine Ministries has taken in 40-50 asylum seekers weekly since 2011. They come to the ministry for food, fellowship, bible studies, prayer and church services once a week. We give them food, travelling money and small allowances. Foodlink Foundations has helped by providing food to them since 2013. Weekly church services include singing hymns or worship, prayer and preaching. There are small groups which include prayer support and discussions. Occasionally, there are seminars and films where they enjoy each other's company, build friendships and find peace and healing in the midst of their turmoil.